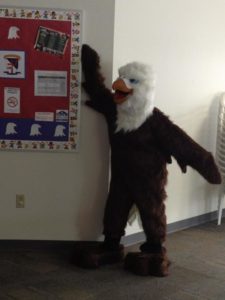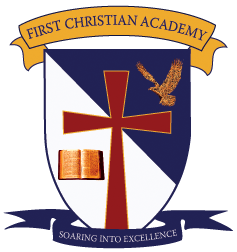 Welcome to First Christian Academy, the home of the Eagles.  First Christian Academy is a ministry of First Baptist Church Richmond Hill.  We offer quality and affordable Christian education from ages 1 year old through fifth grade.  FCA  uses the ABeka Book curriculum.  ABeka provides a systematic phonics program that teaches students to read at an early age.  ABeka is developed from a Christian perspective with patriotic character-building content in every subject.  FCA incorporates electives (Spanish, music, computer, art, and physical education) into the daily instructional program.
Children at FCA will achieve academically, grow spiritually and have fun as they learn.  We would be honored if you would contact us so we can provide you information or schedule a tour. You can also take a virtual tour courtesy of Google Maps. Please take a few minutes to check out our website, connect with us, share our page on social media and see why we are growing.  We look forward to hearing from or seeing you soon.  First Christian Academy, Soaring Into Excellence Together.
Our Mission
The two-fold mission of First Christian Academy is to train students in the Christian way of life and to give our students an excellent education.  Our teachers realize their solemn responsibility before God in molding the life and character of each of their students and to give a solid foundation for each child's future.  Our administration and faculty demonstrate a caring concern for each child under their care.  You and your child will be a valuable part of us Soaring into Excellence together!

Our Calling
The purpose of First Christian Academy is to glorify God by developing the active and creative thinking of His children. We stress the total development of each child: spiritual, moral, intellectual, social, emotional, and physical. The role of First Christian Academy is to help each child come into confident possession of his or her God-given talents. We assist parents in developing responsible young leaders who have courage to act on their beliefs and have compassion for others. We engage with challenging academics and Scripture so that our pupils will become active citizens and responsible stewards of our world serving Jesus Christ.
We strive to teach children to grow like Jesus in knowledge, service, and wisdom which is an embodiment of our motto, " Soaring Into Excellence Together"
Our Promise
Growing your child in excellence, both academically and spiritually.
Bible study is recognized at First Christian Academy as a fundamental requirement for all students. We incorporate the Bible into every subject throughout the day. The ABEKA curriculum also uses the Bible throughout each and every textbook. Our students attend chapel on Tuesday where they are taught a Bible principle from God's Word. We also use this time for praise and worship through music. Because our teachers are able to share and teach God's love with the students at FCA, some of our students have accepted Christ as their personal Savior. Without a thorough understanding of the Bible a student can hardly be educated in the true sense of the word.  The Bible says in Proverbs 1:7, "The fear of the LORD is the beginning of knowledge." The Bible offers the best guide for this life, and the only hope for the life to come.  No other book can enrich and influence the minds and hearts of children like the Bible.  Christian character development is the most important aim of our school.  Because of this standard, all students are taught a planned program of Bible study and the Bible is integrated in all subjects taught as much as it is possible.  The teachers challenge the students to give their very best in their academic studies and encourage them to go beyond what they think they can do. For clarity and continuity, the
 English Standard Version 
of the Bible is the version used in all classes and programs at First Christian Academy.
What We Offer
Our Before and After School programs provide convenient, reliable and safe care for your children.
Before school care begins at 7:00 a.m. After school care begins at dismissal and closes at 5:30 p.m.
We have an excellent staff to help students with homework and other activities. These activities include playground time, special crafts, game time, snacks, etc. After Care at First Christian Academy is a relaxed, yet structured program that provides lots of fun and creative and interesting things to do.
The Before and After Care programs are only available for students enrolled at the academy.

First Christian Academy offers preschool to students 1 year of age to Pre-Kindergarten. We will also offer a 5 day Pre-K program for all students. The students that attend the five day program qualify to attend our school electives, to include Musical Theatre, Computer Lab, Library, and PE.

Your child will be challenged through the use of the ABeka curriculum. Most children who are taught using the ABeka curriculum tend to score higher on standardized tests compared to their peers. FCA is a leader in technology using Promethian board technology in every room. Not only do we soar into excellence in the classroom, we have daily Bible and prayer time as well as weekly Chapel where you child will be given age appropriate spiritual instruction from a Christian viewpoint.

How to Enroll
Enrollment is easy! All the information and resources you need are in the following tabs. If you have any questions or need help,
Contact Us
.
Come by anytime and bring your children for a guided tour,
email us
or call 912-756-3407 ext. 124 to arrange a tour. You can also take a
virtual tour
using a google inside look.
2017/2018 Registration Fees:
| | |
| --- | --- |
| One's-Two's 3 days | $345 |
| One's-Three's 4 days | $370 |
| One's-Three's 5 days | $480 |
| Pre-K 4 days | $390 |
| Pre-K 5 days | $495 |
| Kindergarten-Fifth Grade | $525 |
Registration is due once at the time of enrollment. Payment may be made by check, cash, or money order. We also accept payments via PayPal, but there is a processing fee which is added to the above rates. 
Registration fees are non-refundable.
Summer Camp
Tuition
Tuition may be paid in one sum or monthly for ten months, August – May. The amount due remains the same each month regardless of how many days your child attends. Tuition is due on the 1st of every month. A $20 late fee will be charged after the 10th of each month. Tuition may be paid through the mail or dropped in the First Christian Academy Tuition Drop Box. If a person has had two checks returned, we will no longer accept a personal check for payment. We accept payment by cash, check, or money order. You can also set up and automatic payment through your bank. We also accept payments via PayPal, but there is a processing fee which is added to the above rates. 
Multiple Child Discount:
| | |
| --- | --- |
| 2 or more children | 10% discount off the additional child(ren). |
2017/2018 Tuition rates are as follows:
| | | |
| --- | --- | --- |
| Ones-2's 3 days | $3,450 Yearly | Monthly $345 |
| Ones – 3's 4-Day | $3,700 Yearly | Monthly $370 |
| Ones-3's 5 days | $4,800 Yearly | Monthly $480 |
| Pre-K 4 days | $3,900 Yearly | Monthly $390 |
| Pre-K 5 Day | $4,950 Yearly | Monthly $495 |
| Kindergarten – Fifth Grade | $5,250 Yearly | Monthly $525 |
Download and fill in the enrollment form; you may need to click enable editing depending on your version of Word. You can also come by the school to pick up and enrollment form. Please return it to the school and we will take you through the final steps of enrollment.
Enrollment form
Where Parents Fit In
First Christian Academy encourages our parents to be involved in their child's education. Parents of students are allowed to volunteer in the classroom, library, lunchroom, and PTO. There are many opportunities for you to be involved. The requirements to be a volunteer at FCA include Volunteer Orientation and a background check. Get involved, today! We love and appreciate our volunteers at FCA!

Join Our Team
First Christian Academy is always accepting resumes for positions that may become available. Please stop by the school to pick up an application. Interviews will be scheduled for qualified candidates, after a review of the application has occurred. We are currently seeking a Finance/Records Secretary, Grade School Teacher, After Care teachers and assistants.