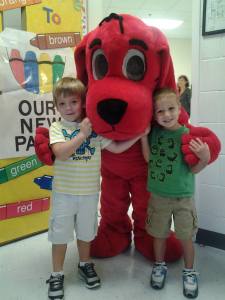 Typical Day for a 4 Day Preschool Student at First Christian Academy:
8:00 AM Car Line Begins
8:15 AM: School Begins
Centers
Restroom Break (three's must be potty trained)
Bible Study / Prayer for One Another
Group Time with Pledge, Weather, Calendar & Class News
Snack
Restroom Break
Language Development / Arts and Crafts
Story Time / Music
Skill Development / Working with Numbers
Playtime on the Playground or Gymnasium
Rest Room Break
Dramatic Play/ Free Choice/Structural Center Time
Science, Health, Safety & Manners are Integrated Daily and During Theme Studies (see link below for exact core content taught)
Library
Weekly Chapel Every Tuesday
12:00 PM School Ends
Some Theme Studies Include:
Community Helpers
Countries: Mexico, Italy, Canada, England, Greece etc..
Farm Life
Ocean Life
Space
Dinosaurs
Church Life
My School
My Neighborhood
Colors
Plants
Friends
Seasons
Holidays
Teddy Bears and Toys
First Christian Academy offers preschool to students 1 year of age to Pre-Kindergarten.  We  also offer a 5 day Pre-K program for all students. The students that attend the five day program qualify to attend our school electives, to include Spanish, Music, Computer Lab, and PE.
Click here to see key elements taught using the A Beka Curriculum.