Mission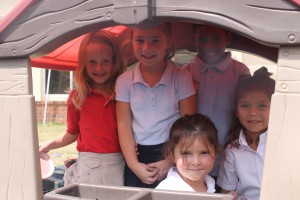 We are honored that you are considering First Christian Academy as your child's school for the 2012-2013 school year.  The two-fold mission of First Christian Academy is to train students in the Christian way of life and to give our students an excellent education.  Our teachers realize their solemn responsibility before God in molding the life and character of each of their students and to give a solid foundation for each child's future.  Our administration and faculty demonstrate a caring concern for each child under their care.
Our teachers are well qualified and have many diverse experiences, which they bring to our students.  God has blessed our teachers with rich experiences, which they are able to expand upon in their classrooms.
At First Christian Academy we teach using the A Beka curriculum. For fifty years this curriculum has proven to help children reach their potential using foundational methods. The A Beka curriculum is advanced compared to many other curriculums. For example, our students begin reading in Pre-Kindergarten. The phonics program is designed to give students skills to become exceptional readers. Our students also develop a strong foundation to build upon in math with addition, subtraction, multiplication, and division. Children must know their math facts well before they can master the advanced level.
Our teachers also embellish the curriculum using many other fun activities, hands-on experiences, and promethean boards. For example, the Kindergarten classroom is reading the Flat Stanley books. They are sending Flat Stanley around the world and identifying the cities on the map he visits. Flat Stanley will be returned to the classroom dressed appropriately for the different places he has traveled. What a fun social studies and reading activity!
Our students have age appropriate daily Bible lessons. They also attend chapel each week where they hear Bible stories, sing praise songs, watch skits and puppet shows, and much more. Chapel is the highlight of our week.
We value your family. At First Christian Academy your family will be invited to attend many special events throughout the year such as our Veterans' Day Celebration, Thanksgiving Feast, Christmas pageant, the Scholastic Book Fair, Family Literacy Night, Easter pageant, Kindergarten Graduation, and more. We look forward to the opportunity to teach your children and prepare them for the special plans God has for them.