Enrollment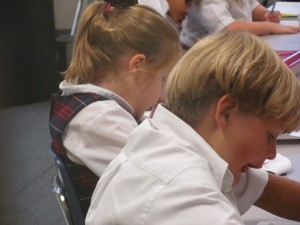 Enrollment Information
First Christian Academy is growing and excited to invite existing school families and new prospective families to take a look at the next level of education for the upcoming school year.  We are currently enrolling students for the 2012-2013 school year as well as the 2013-2014 school year.
First Christian Academy offers an early childhood education beginning with one year olds to Pre-Kindergarten. We also offer a 5 day Pre-Kindergarten program.
First Christian Academy offers an exceptional, academically challenging elementary program for students Kindergarten thru third grade.
Parents and students interested in looking at the next level of education for the upcoming 2013-2014 school year are invited to tour our spacious facilities, and experience classrooms for a look of what is to come.
First Christian Academy teachers are dedicated to scholastic excellence as well as Biblical training.  Our low student-to-teacher ratios allow for more specialized attention.
First Christian Academy uses the A Beka Curriculum as well as Accelerated Reader and a variety of other enrichment activities to ensure a solid educational foundation. Our kindergarten thru 3rd grade classrooms are currently using Promethean Boards to enrich the learning experience.
Registration Fees:
The registration fee is due at the time of enrollment.  Payment may be made by check, cash or money orders.
Tuition Fees:
Tuition may be paid in one sum or monthly for ten months, August thru May.  The amount due remains the same each month regardless of how many days your child attends.  Tuition is due on the first of every month.
Multiple Child Discount:
2 children                            10% discount off the 2nd child
3 children                            10% discount off the 2nd child, 50% off the 3rd child